Waterslides
100% fun slides from S to XXL
With more than 25 years of experience, EDSUN is one of the European leaders for waterslides, offering you reliable products that look great. They are made to meet EN1069 standards.
From family slides to slides for thrill-seekers, we have an unlimited range of solutions to suit all requirements and budgets. Traditional or extreme slides, inflatable slides, indoors or outdoors, slides that end in the pool or a run-out chute, sound and light effects – whatever you want, Edsun offers you the keys to an infinite water world.
Edsun extras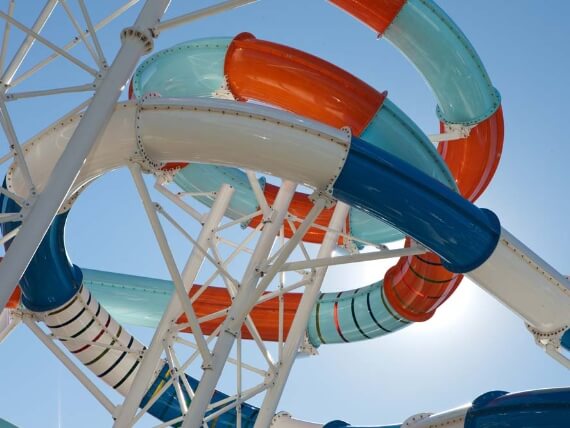 Infobox: RTM technology
RTM – or "Magic Shine" – technology makes our installations all the more brilliant. Slides' parts are perfectly smooth and shiny inside and out. Edsun is one of the pioneers of this technology, which ensures increased durability, easier maintenance and even more enjoyable sliding.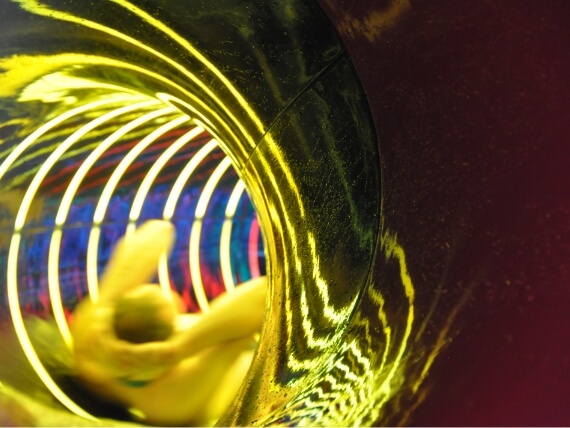 Natural Light Effects "Touch the sunlight!"
This patented technology is applied at no extra cost to all tunnel slides. The sun triggers light effects in the tunnel. This technique is a classic feature of top-end models.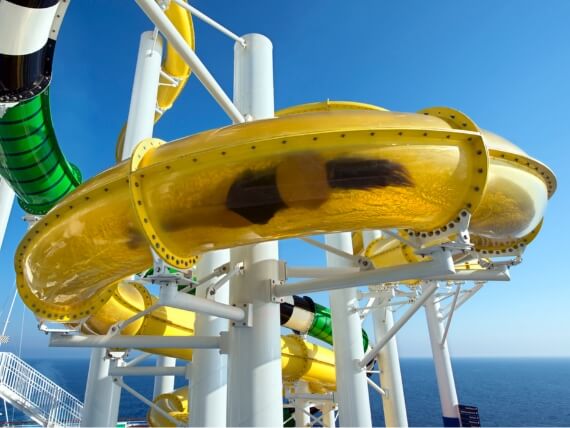 "Glassy experience" transparency
As an optional extra, you can choose for the parts of your slide to be transparent. This enhances the visual effect of the water attraction, making it all the more spectacular. Spectators can see bathers sliding through the slide from the outside.
Great details
RTM treatment for a high-gloss finish

Access stairs, platforms and railings: these structures can be made of galvanised steel with a spiral or straight staircase. They can take advantage of the flat roof of the technical room, or be made of other materials (wood, concrete). The platforms are equipped with a high density polyethylene (HDPE) floor.

Type of inlet: inlet in a basin, in an aquaflood (above-ground or underground) or in a submerged aquaflood

Layout: we will design a layout that best suits your available space and meets your objectives

Colours: possibility to combine several colours and to choose two different colours for the inside and outside of the slide, without extra cost
Footbridges, railings, stairs designed and made to measure according to Eurocode 8 (calculation of structures for their resistance to earthquakes)

Frame and walkway are made of hot-dip galvanised steel (painting optional)

Assembly of the elements by bolting with A4 stainless steel screws and watertightness by EPDM seal cut by water jet

Slide made of polyester, fibreglass and isophthalic gelcoat treated against UV and chlorine

Metalwork corners protected by half-spheres on the slide course. Optionally, all corners can be protected in the traffic areas.

Starting piece with a comfortable seat: bathers can control their momentum and take off thanks to a stainless steel bar.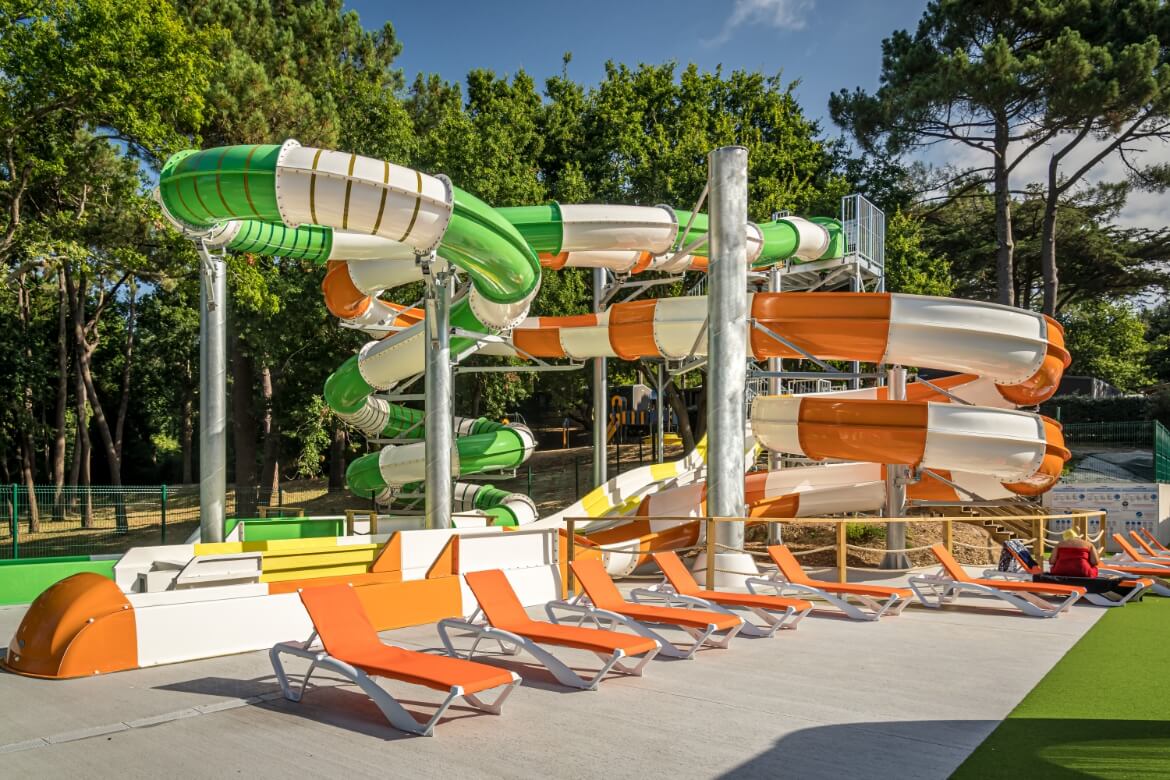 For an exceptional water play facility offering a range of thrills, Edsun recommends that you combine several types of slides. These fully personalisable installations are ideal for businesses who want to make their water play facilities a major part of their appeal.
Compact slides made in France
must'TOB, slide'TOB and kami'KAZ… the Edsun range of slides has been made in Vendée for more than 25 years. We can install slides on their own and separately or we can combine various models to create a unique, made-to-measure installation.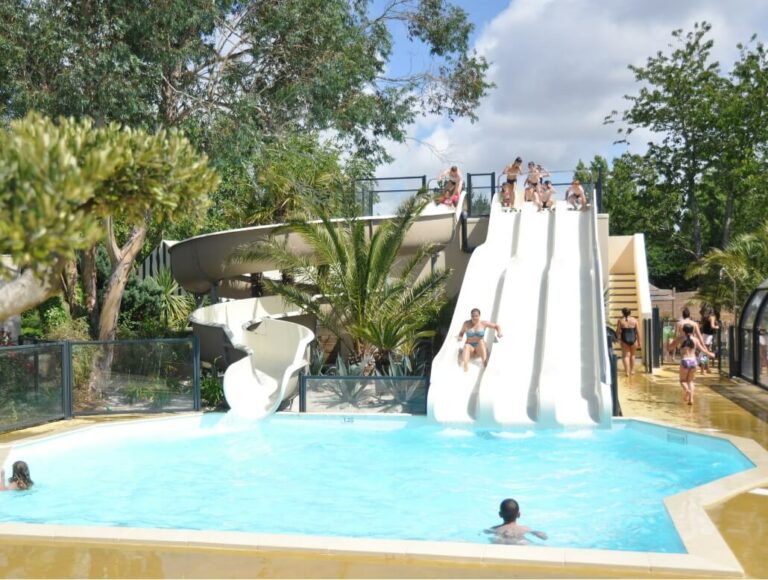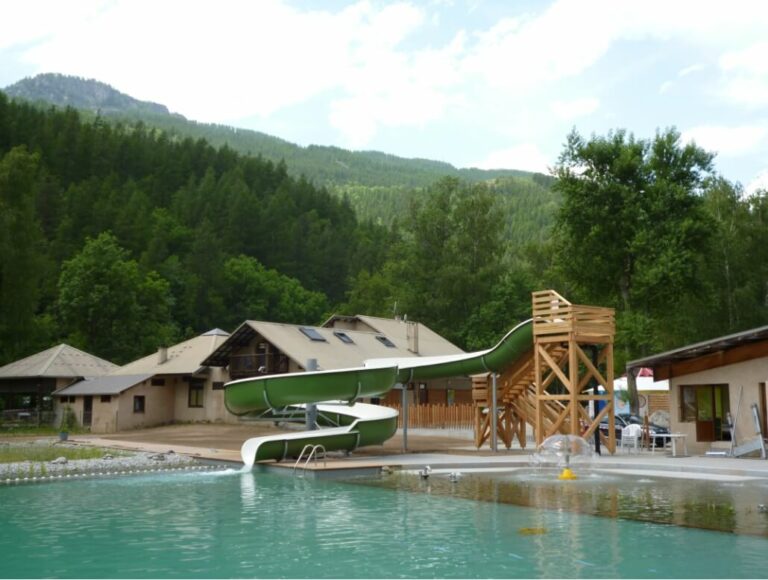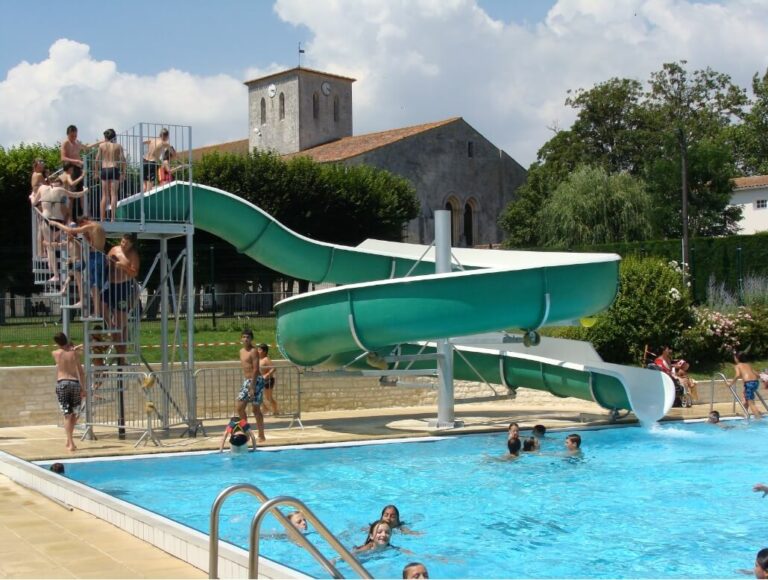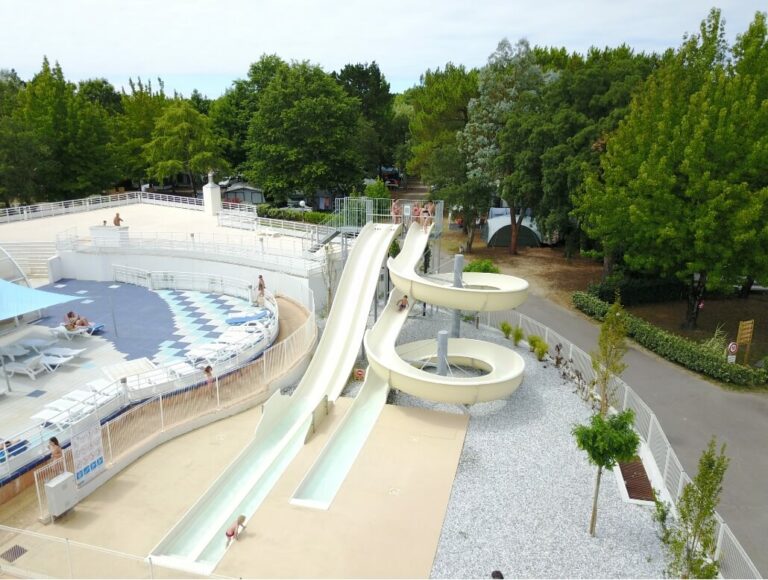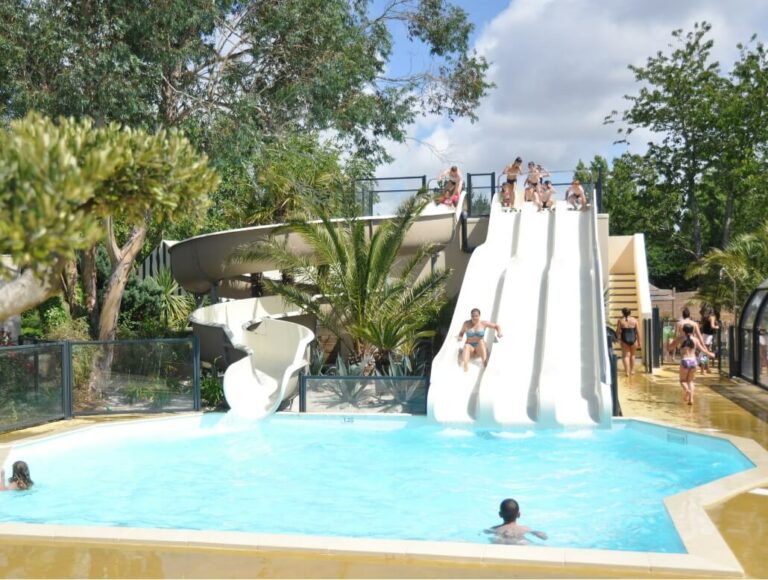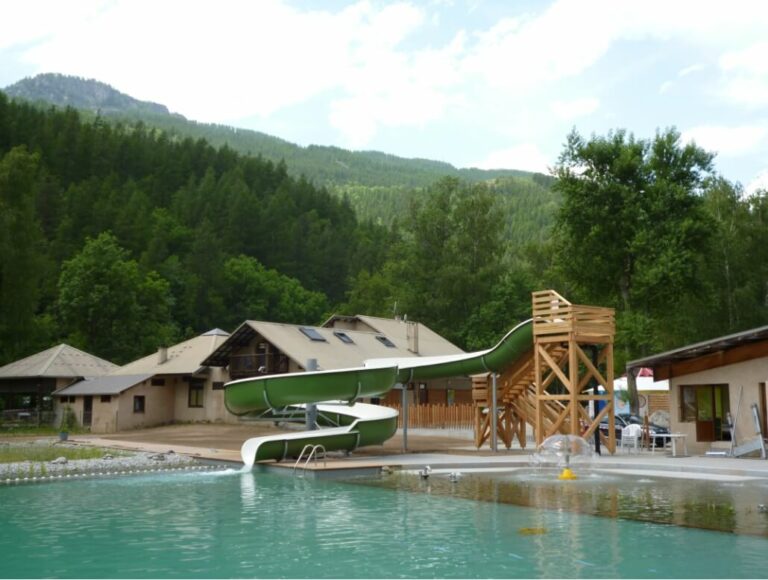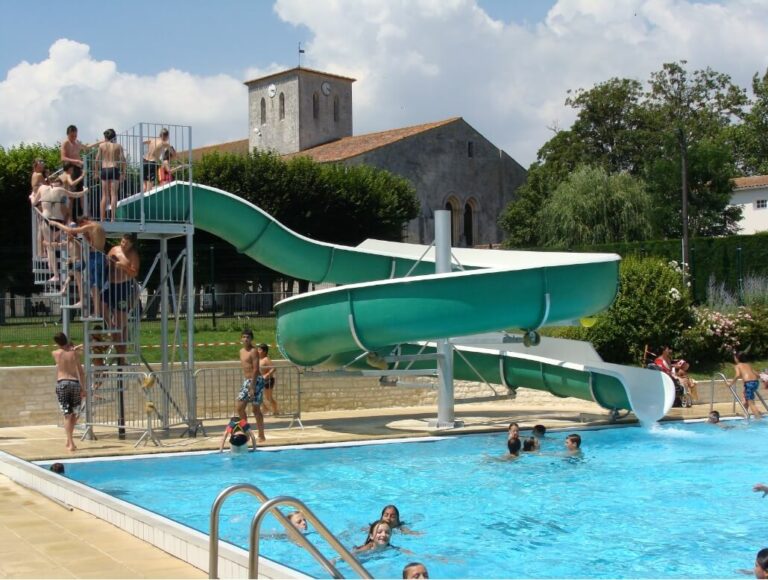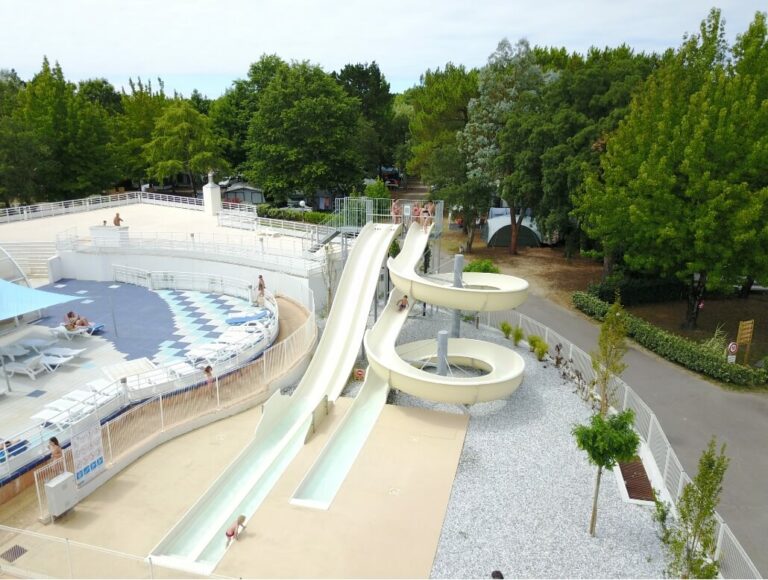 Must'TOB
the family slide par excellence
• Large diameter: 90cm
• Can be used for all runs, whether slow or more exciting, with curves forming complete or partial laps.
Slide TOB
multi-lane slides for racing
• Water slides with 2,3 or 4 lanes (slides: 60cm wide)
• This enables several bathers to go down at the same time
• Thanks to its shape featuring successive waves, it gives a feeling of real speed
• It can be installed as a duo with a Must'TOB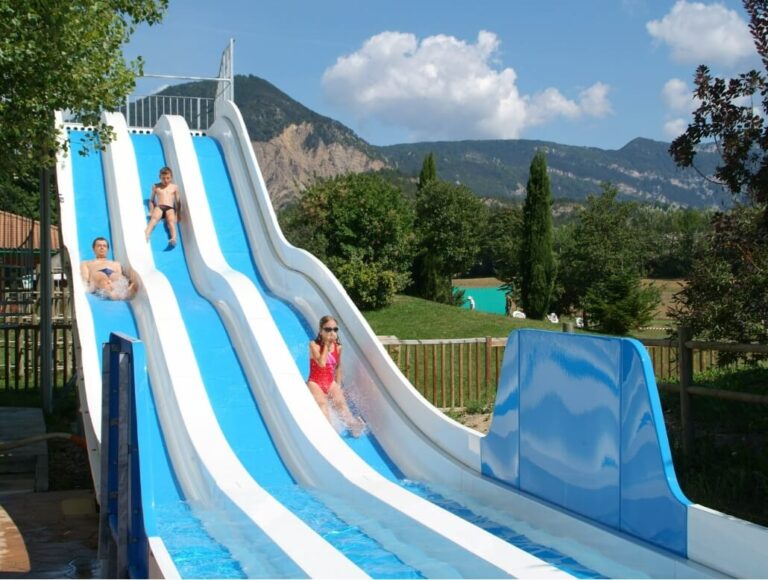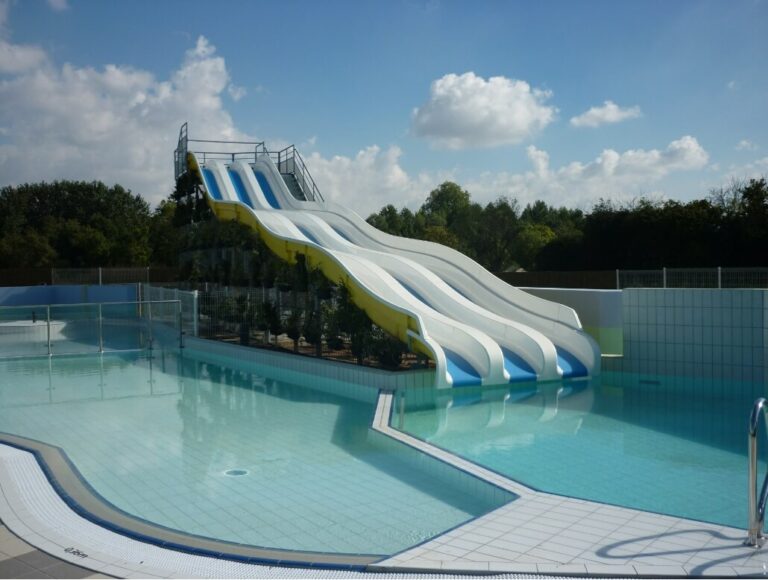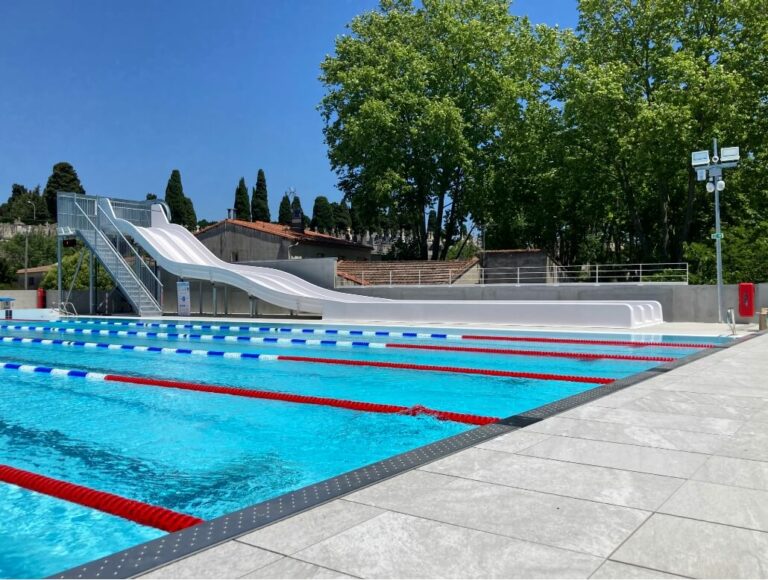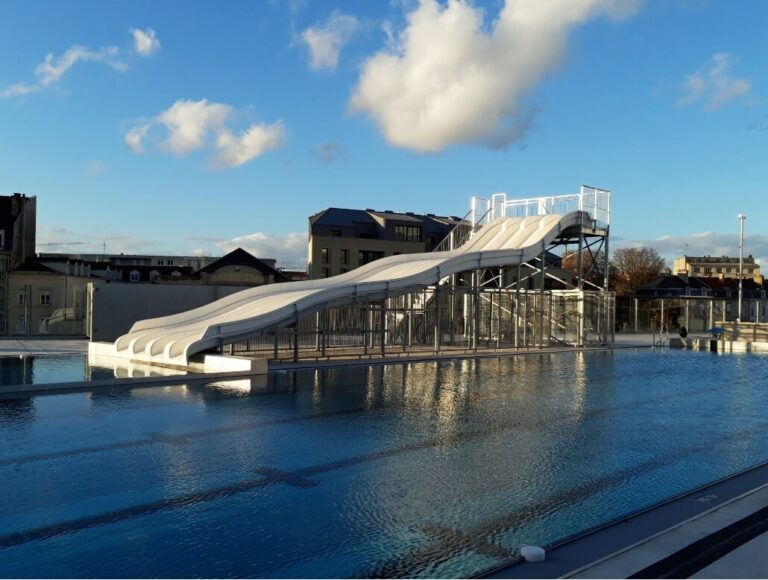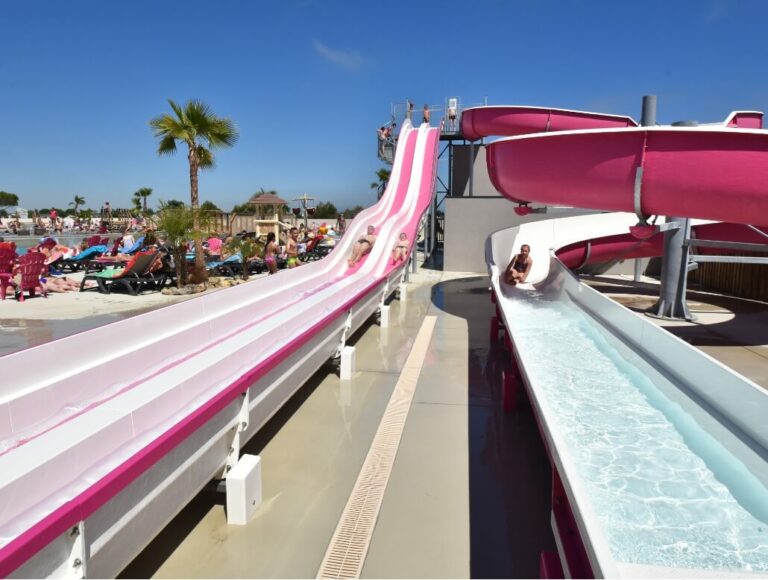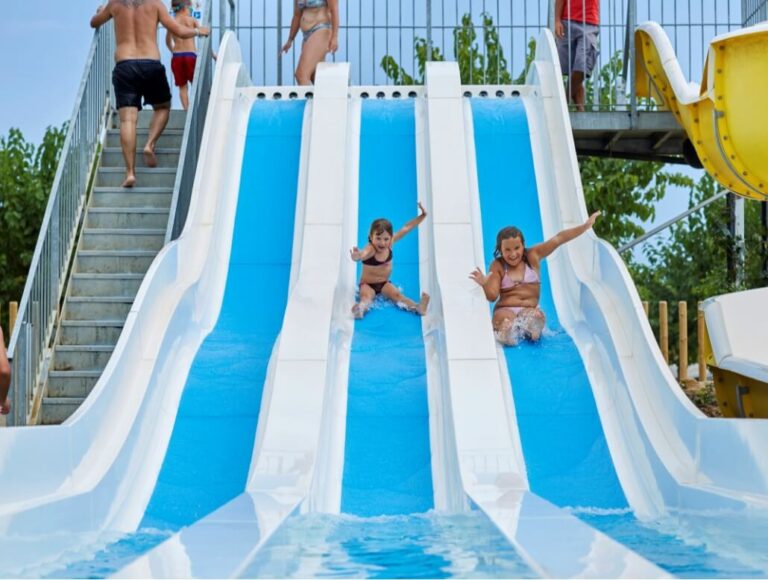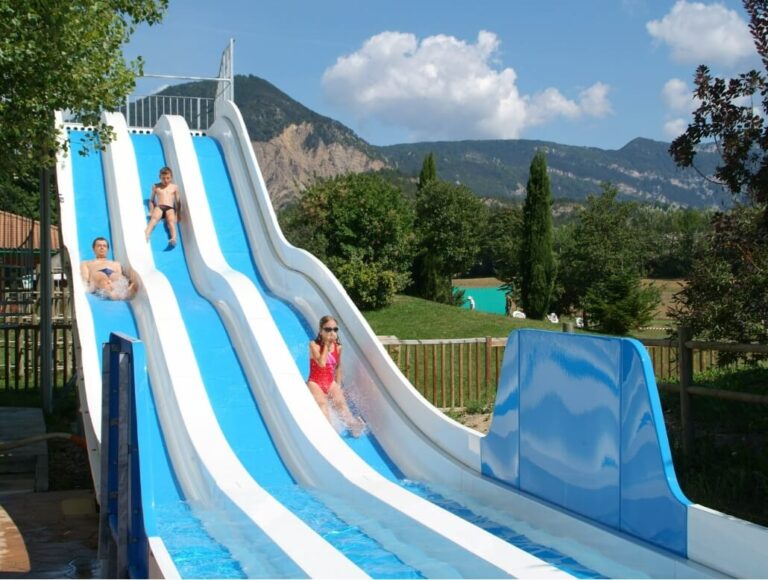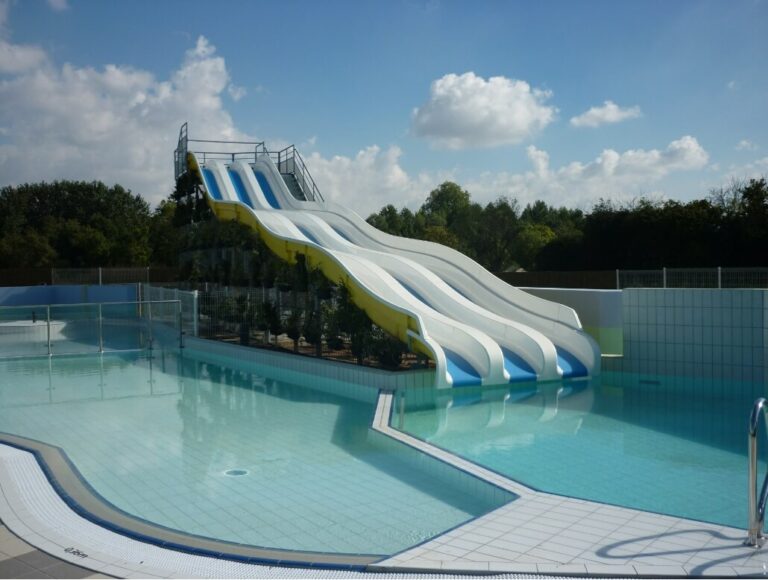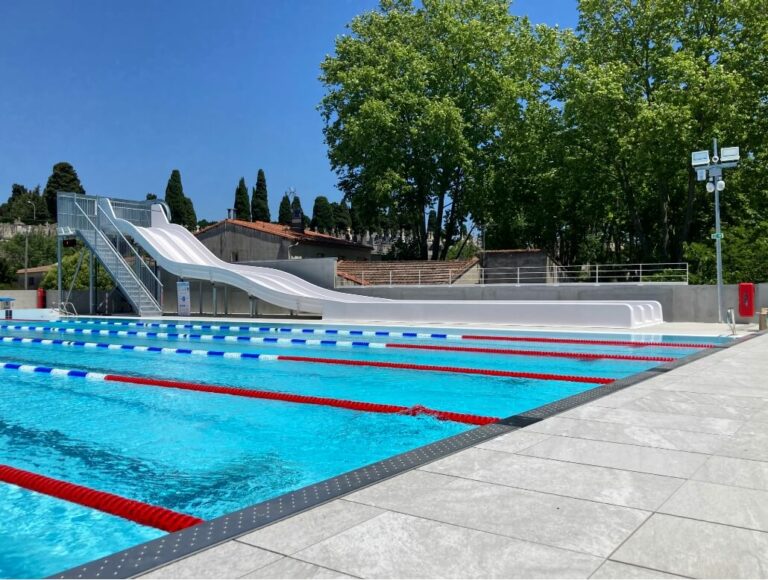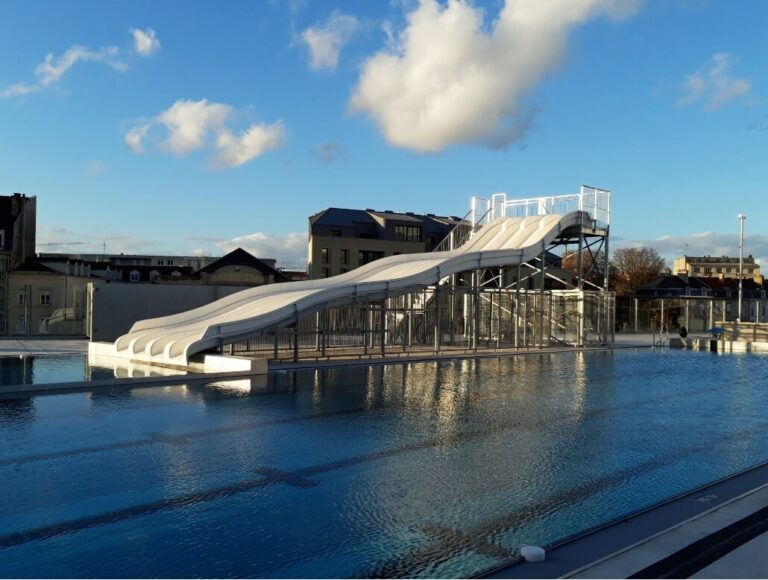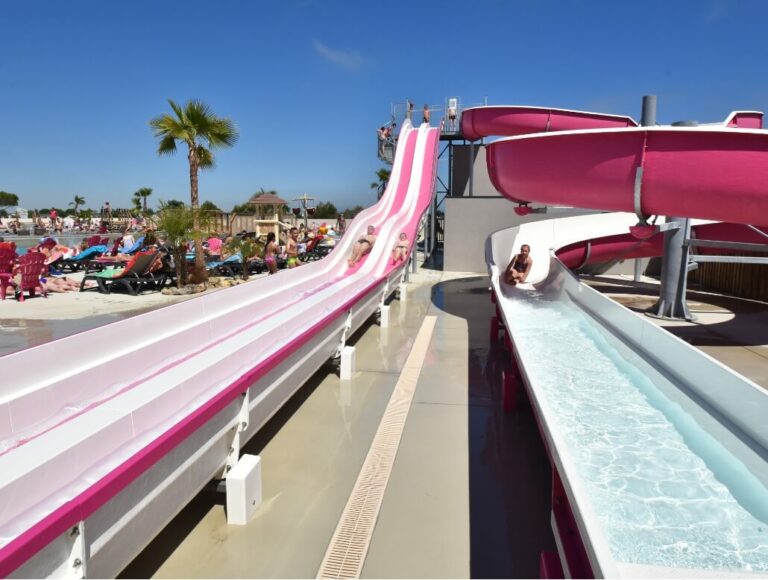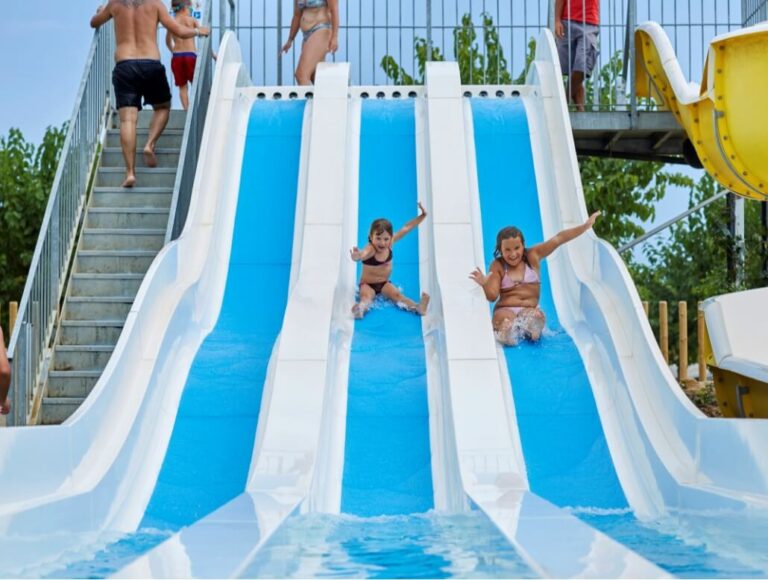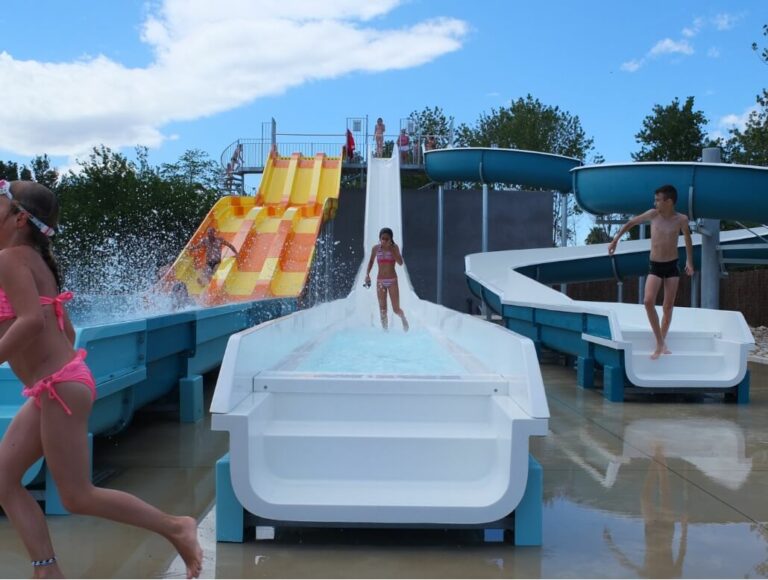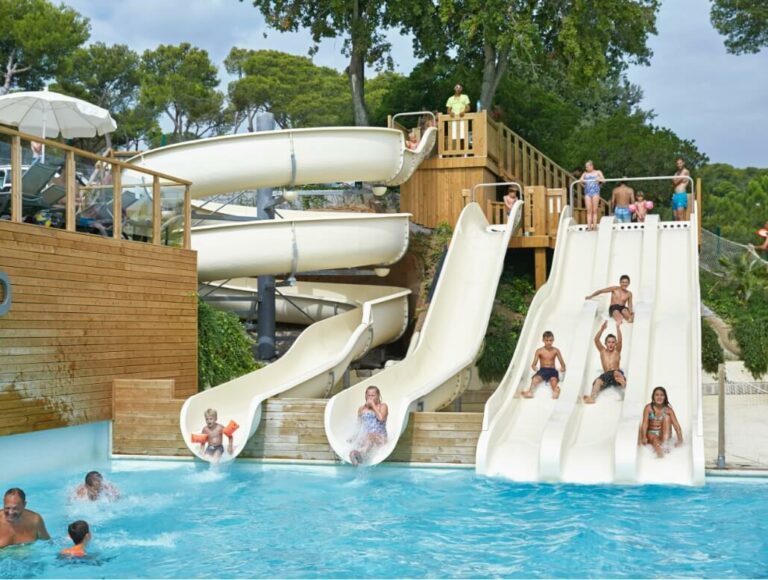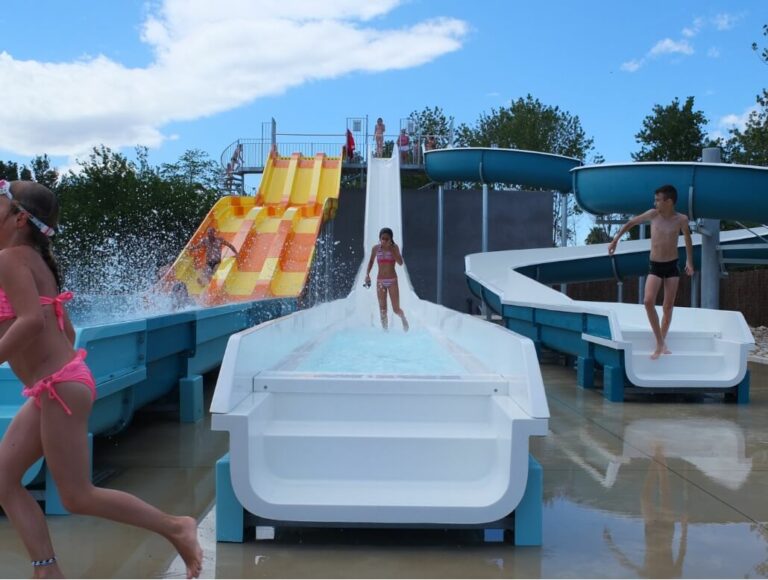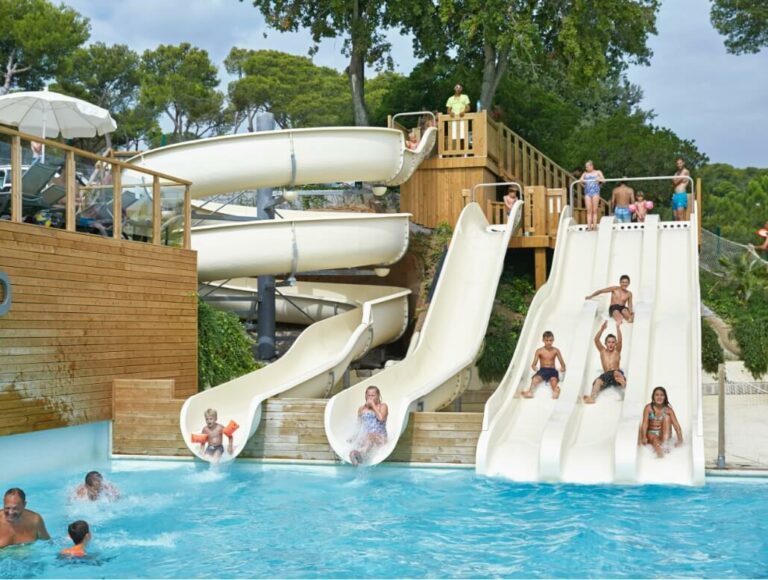 Kamikaz
the dizzying slide
• High-speed slide with a steep descent (slide: 90cm diameter)
• Often installed alongside a Must'TOB or a Slide'TOB, this adds an extra dash of sportiness and adrenalin
• Thrills guaranteed!
Spectacular slides: XXL thrills
Since 2010 Edsun has been the exclusive distributor in France for the world leader in XXL water slides that guarantee thrills. This company boasts unmatched skill for waterslide engineering and architecture. With a team of more than 500 people and more than 35,000m2 of factory space, our partners can produce an infinite variety of water slides … including yours.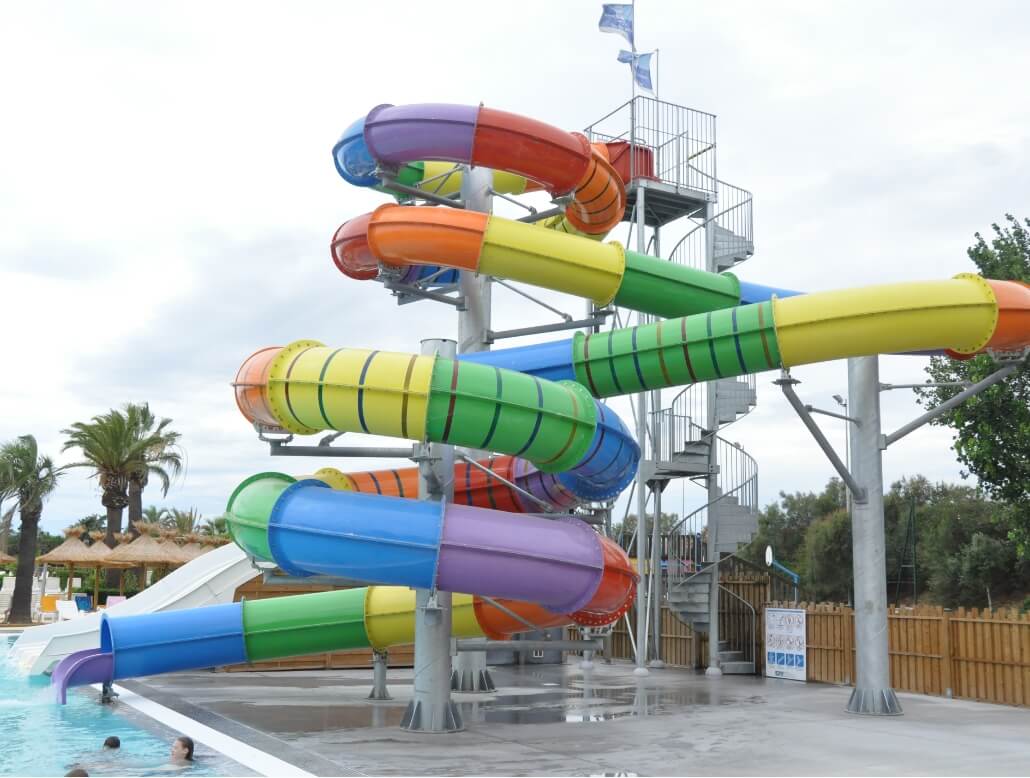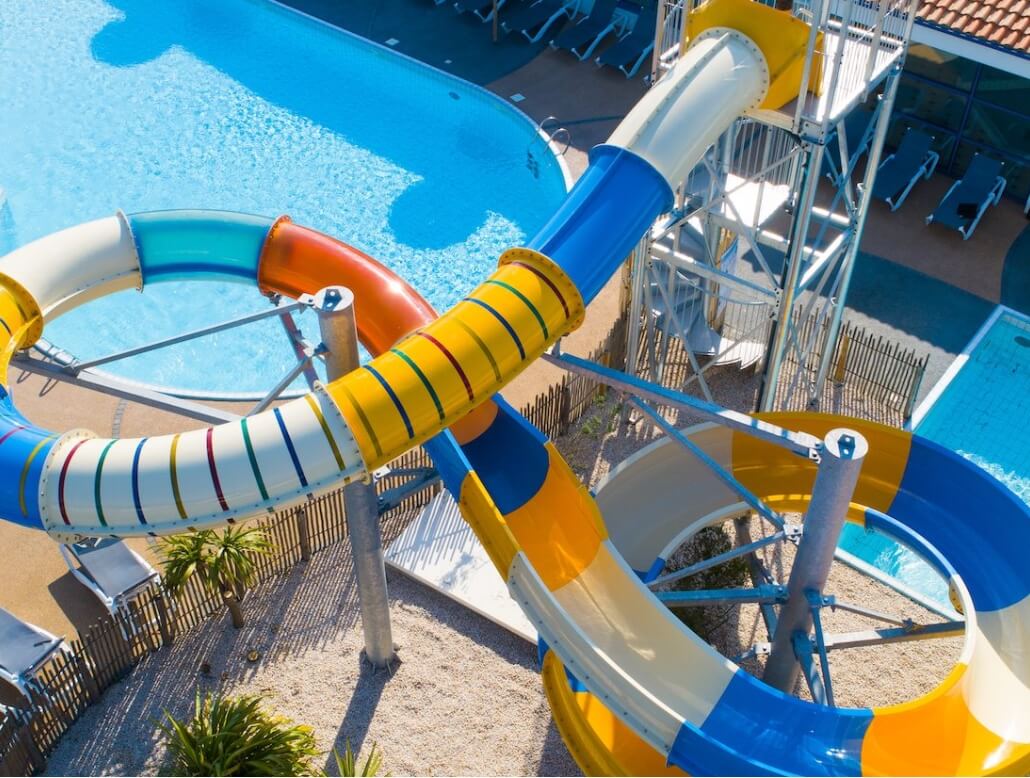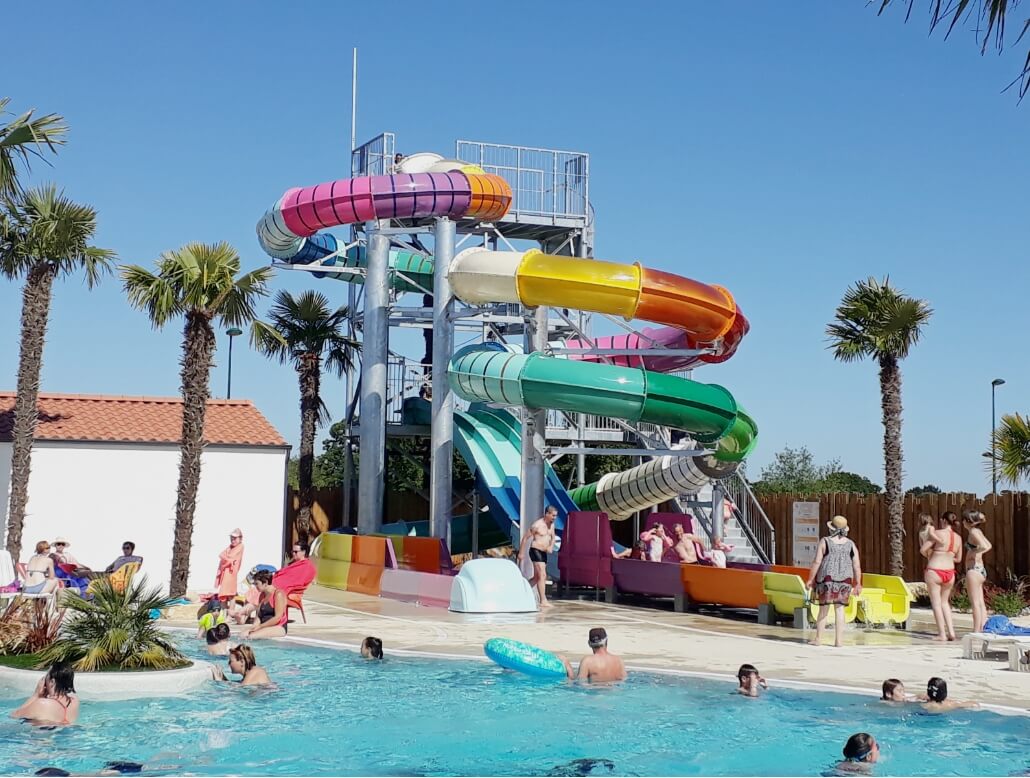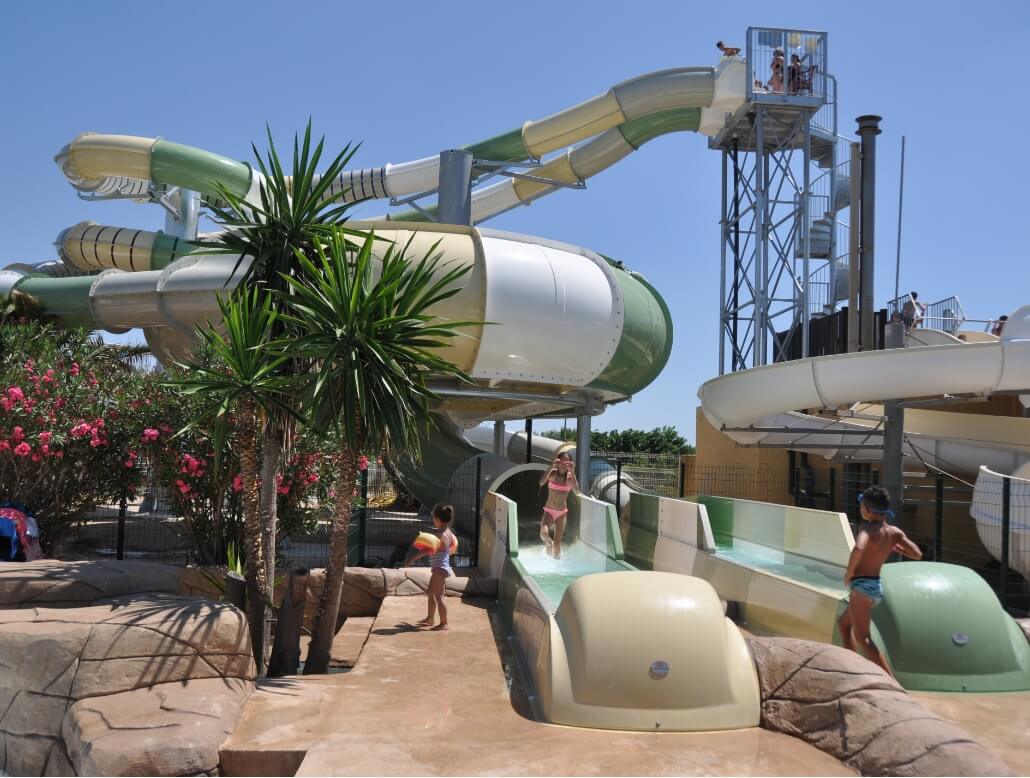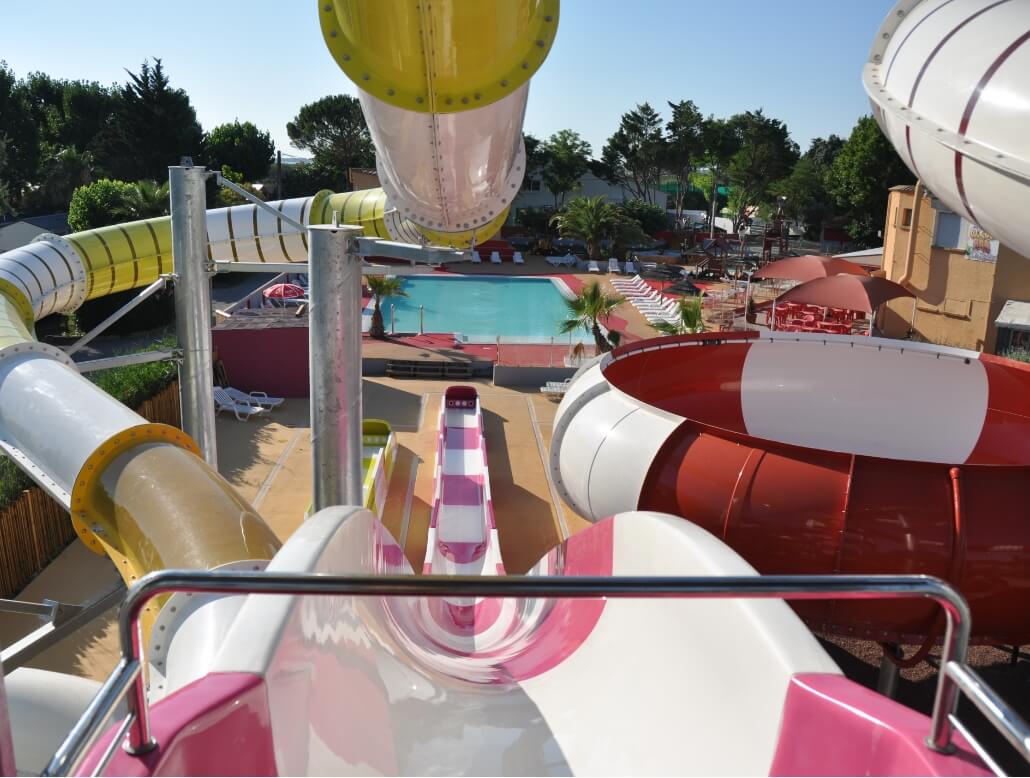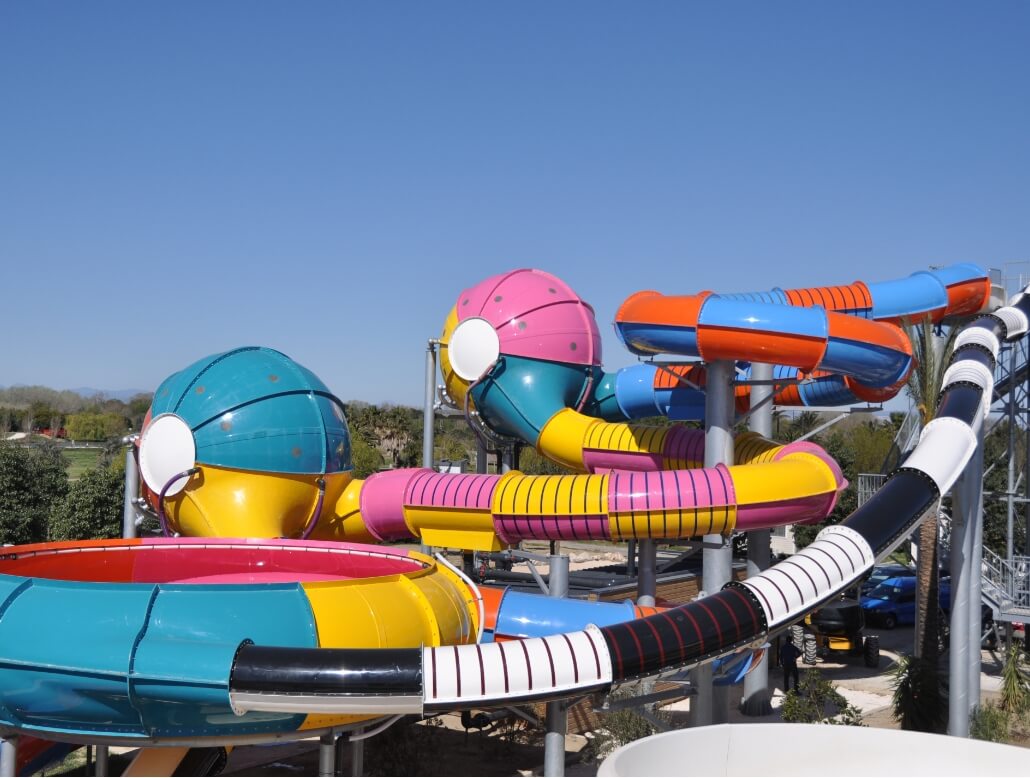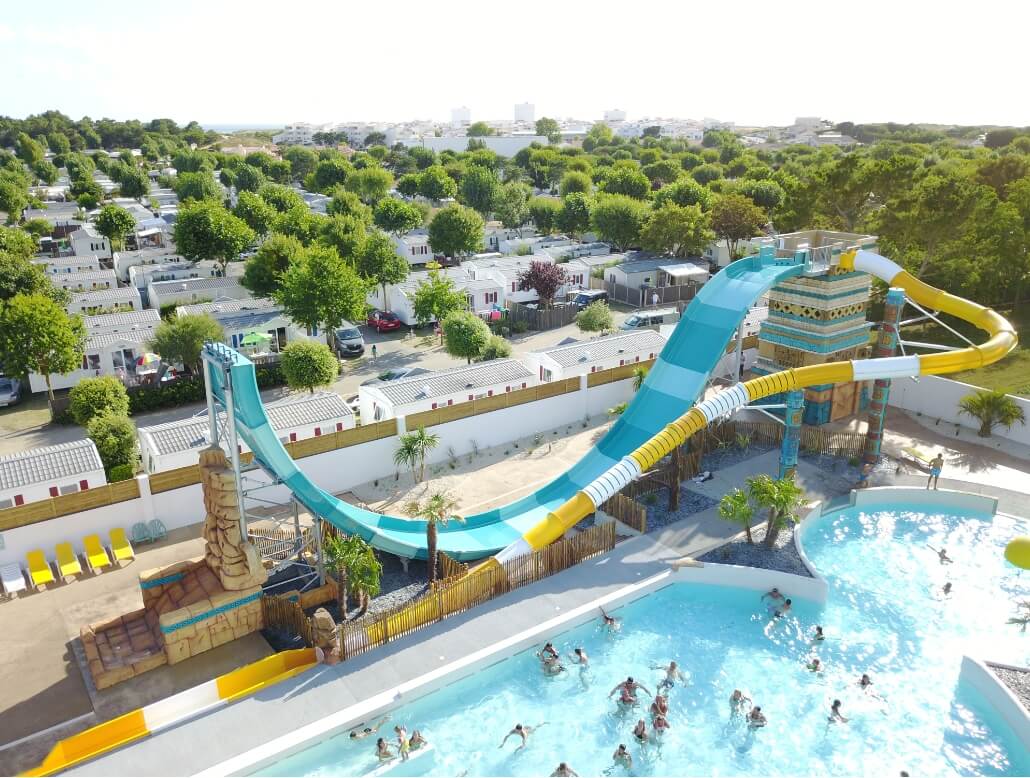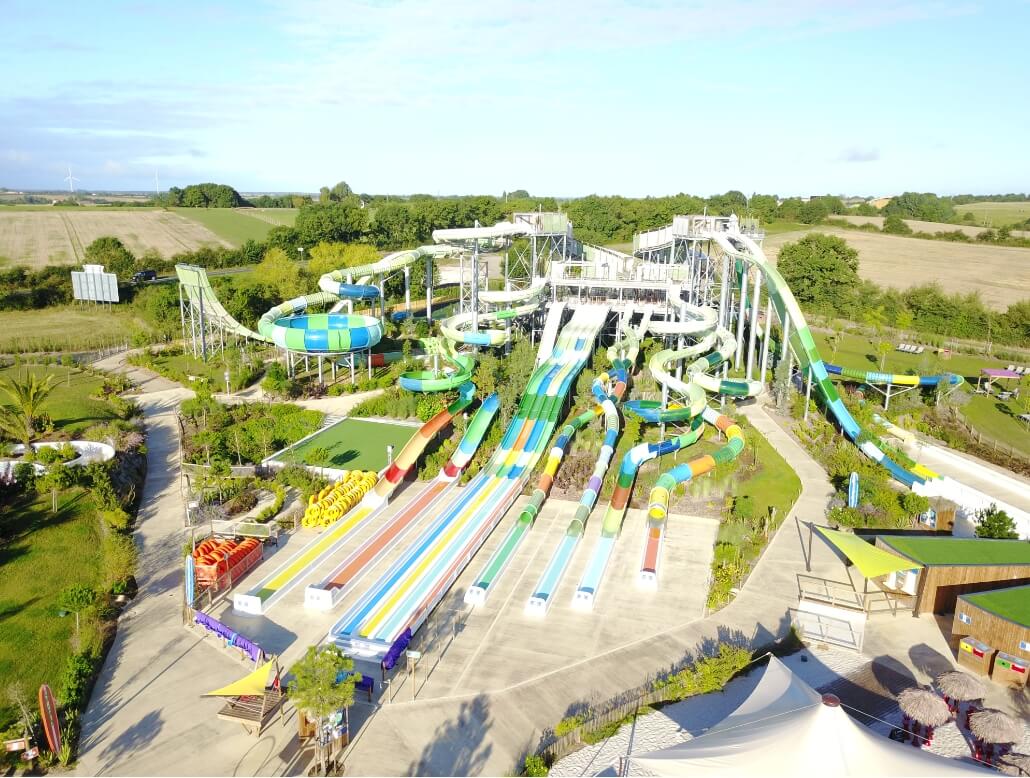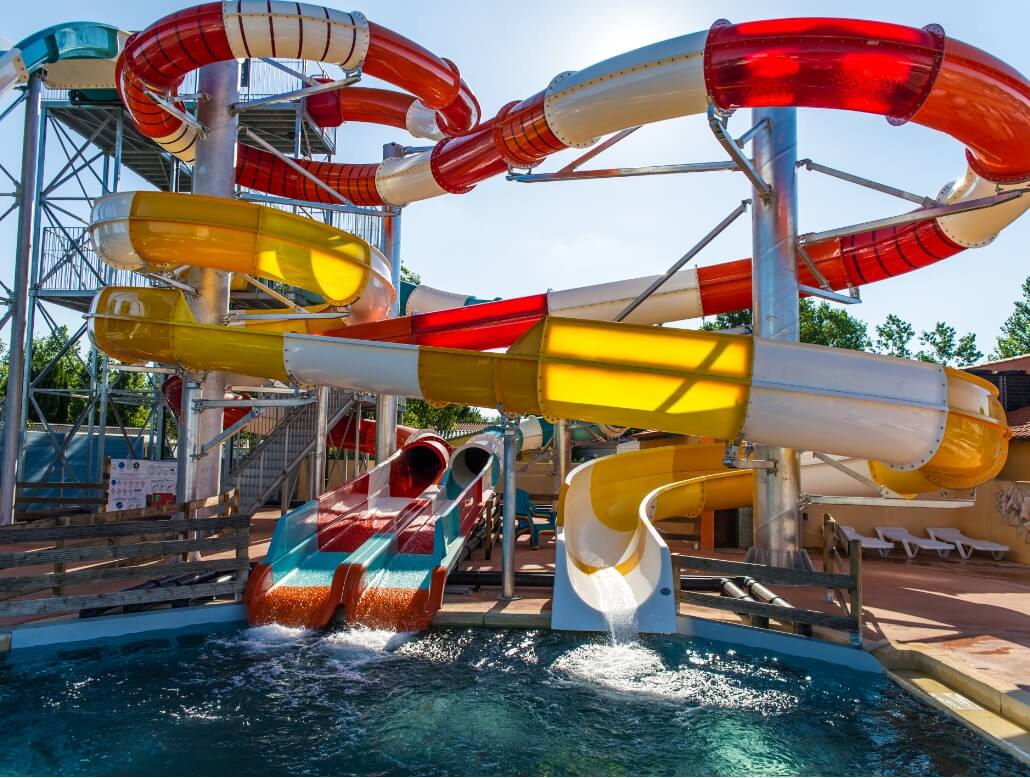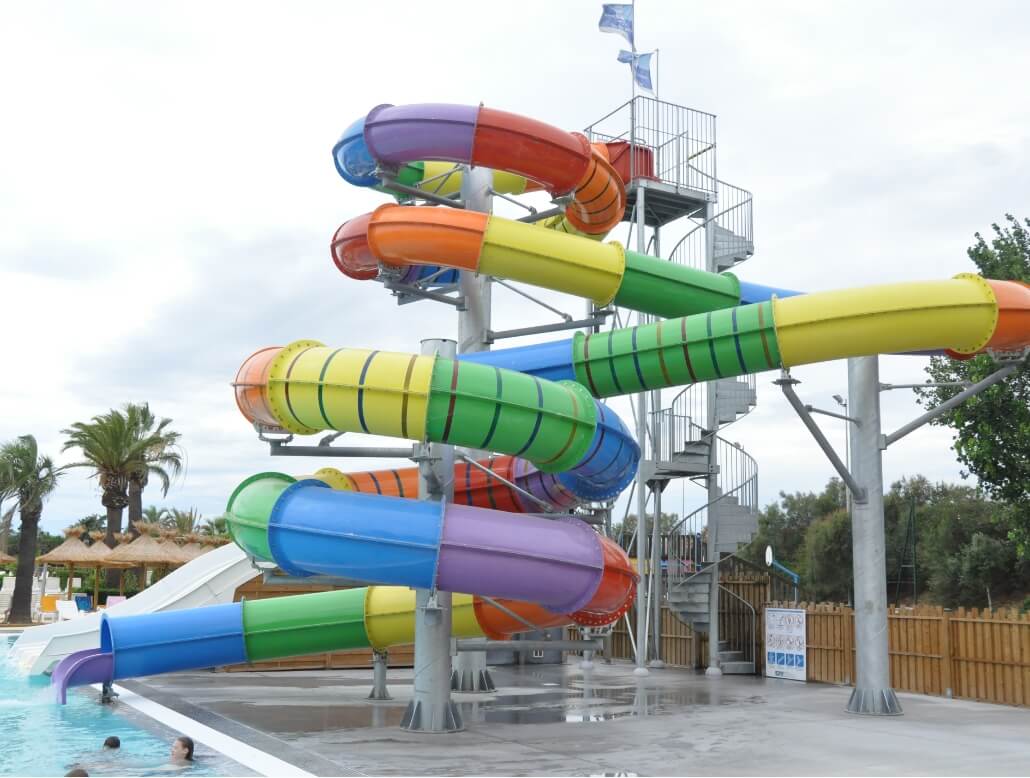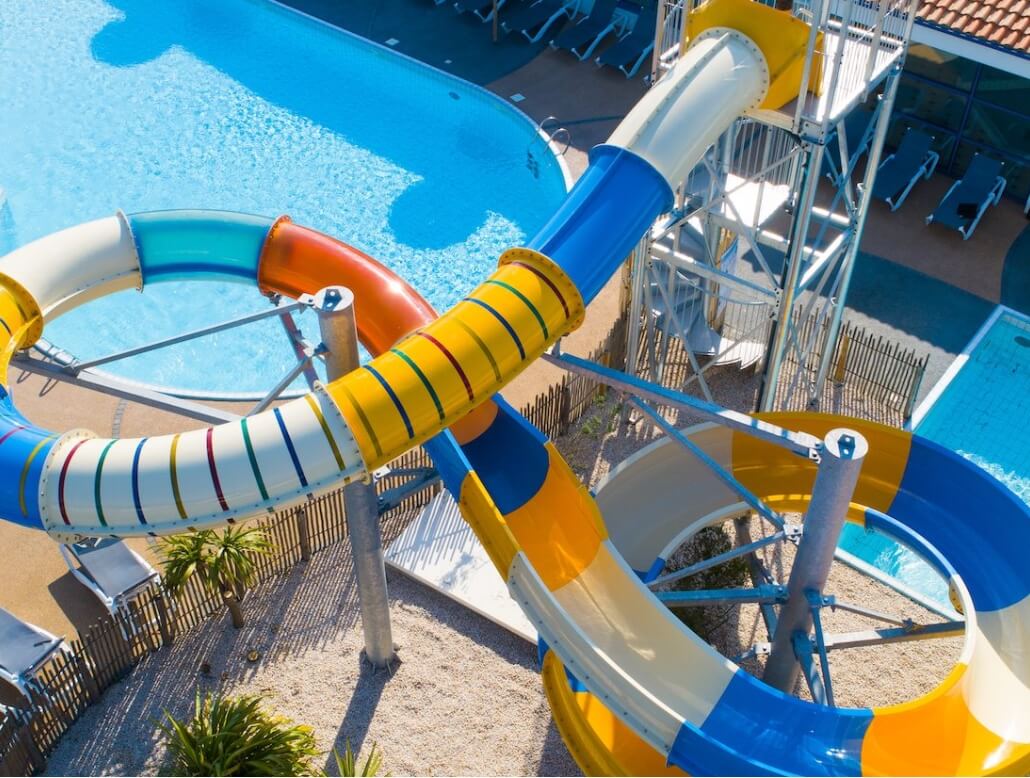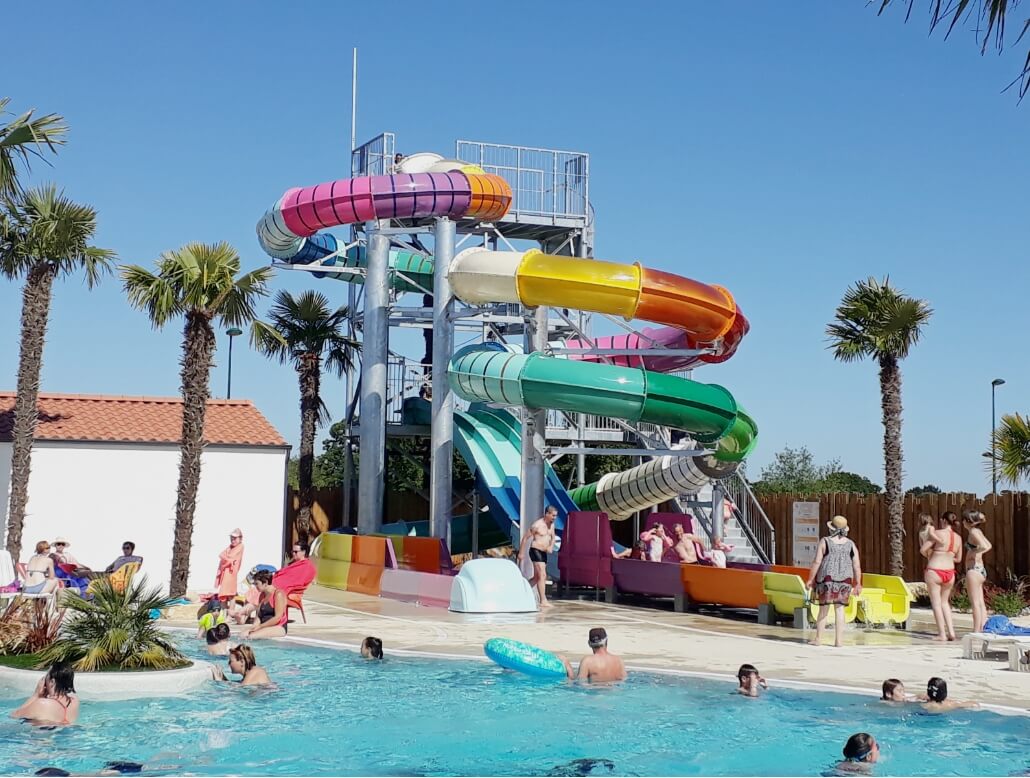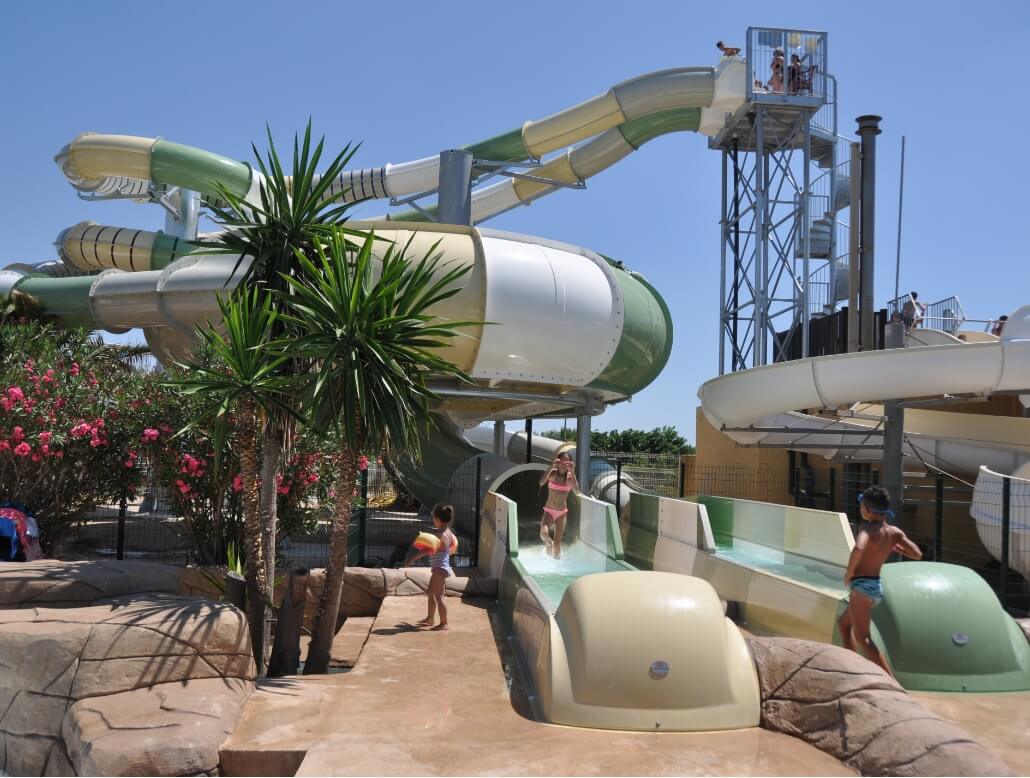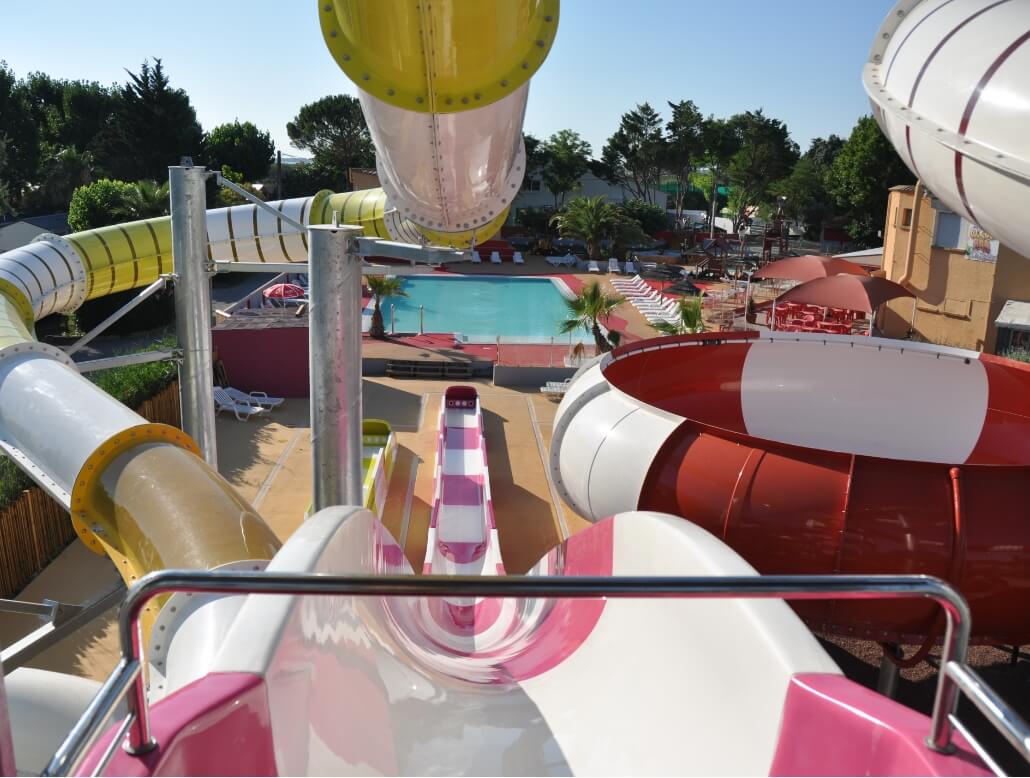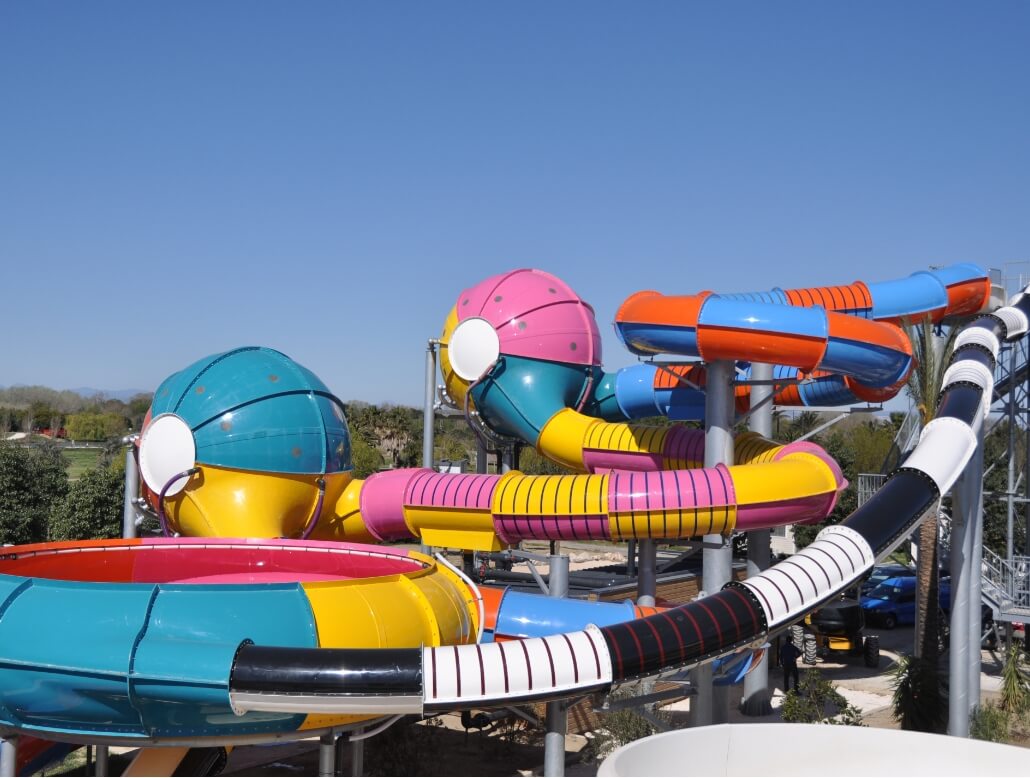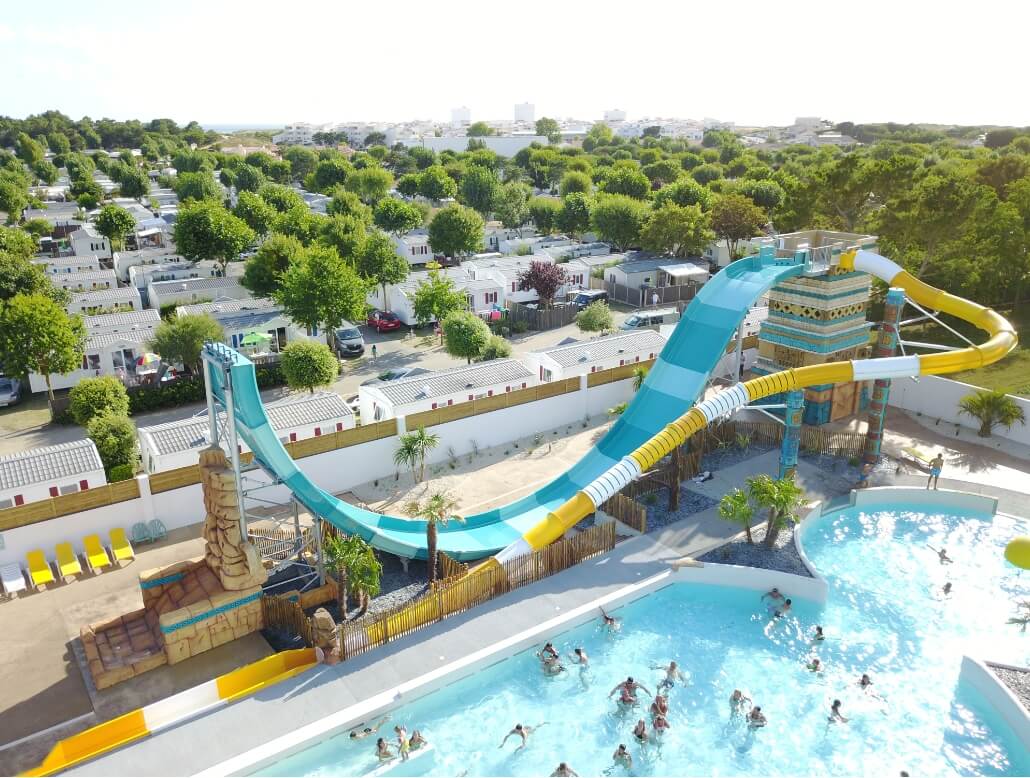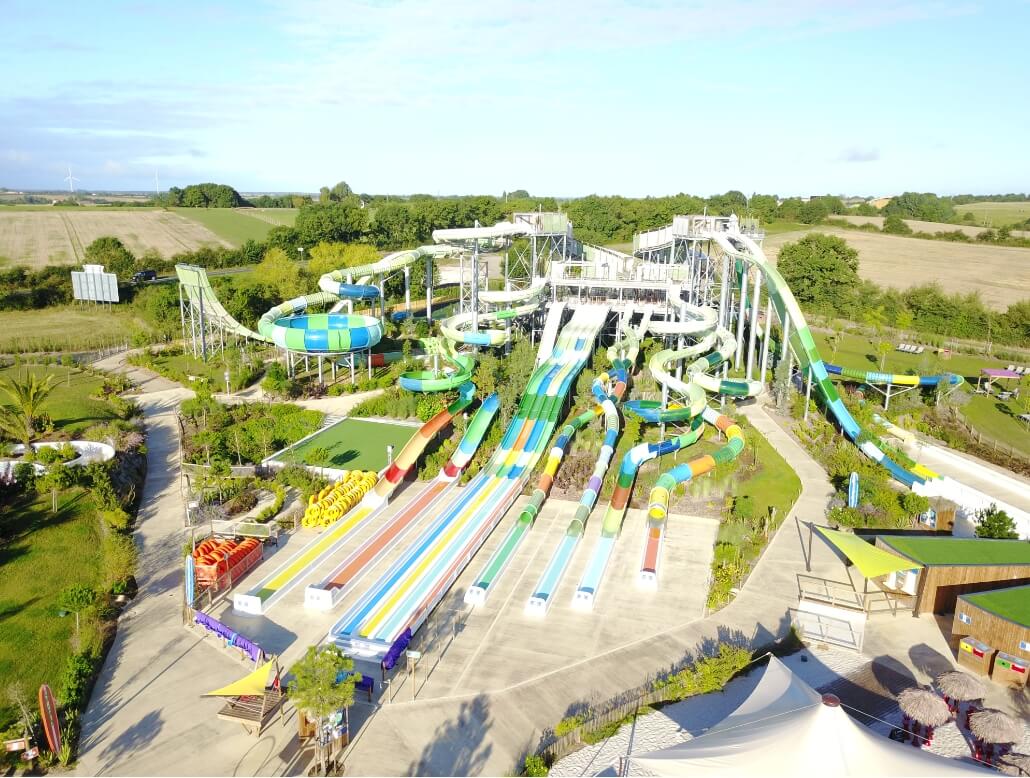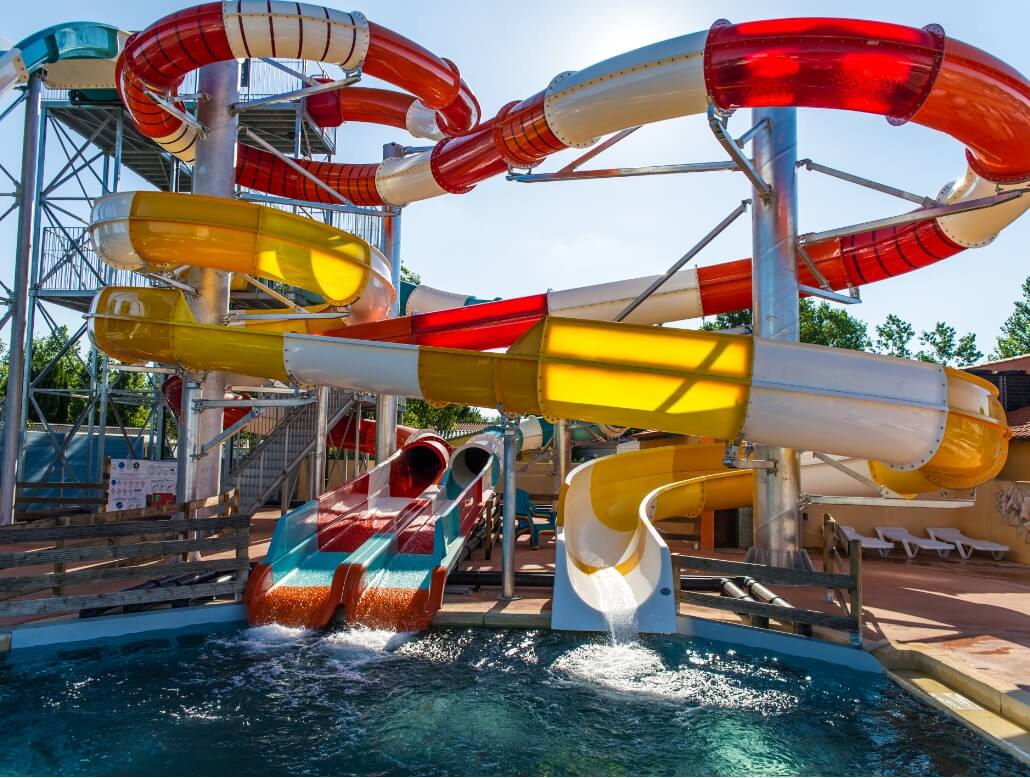 Galvanised steel structure (painting optional extra)

Slides made with RTM technology: perfectly smooth and shiny finish on both sides of the slides (inside and outside)

Coloured and decorated polyester panels

Parts assembled with stainless steel A4 bolts and screws
User-friendly and comfortable starting part allows bathers to to control launch

Spray action: Plastic nozzles

Secure metalwork corners

Anti-slip steps and floor
Secure this product with AngelEye
AngelEye LifeGuard is an anti-drowning system that monitors pool users with an integrated underwater camera system that detects dangerous situations.
Complement our aquatic and outdoor products with our decors
Fun, atmosphere, immersion, magic and a change of scenery are the hallmarks of Edsun's decors, which can be used to dress up the structures of your installations.
You may also be interested in these products
Contact Us
Do you need information about one of our products? Do you have a plan in mind or do you want tips for getting the best out of your equipment … Play your turn and get in touch.